Herbalist Ties 'Customer's' Hands In Oke-Aro, Dumps Him in Clay Pot For 3 Days Without Food
A 26-year-old man, Oluwasegun Ayoola, has lost the use of his two hands after he was allegedly tortured by a herbalist in the Oke-Aro area of Lagos State.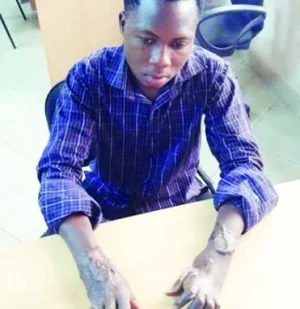 Punch learnt that the unidentified herbalist, who is still at large, tied the victim's hands and feet and dumped him in a clay pot for three days without food.
The victim was said to have been released after some family members intervened. He was subsequently taken to a hospital for treatment.
It was gathered that Oluwasegun was cleaning up his apartment on Idimu Road, Ejigbo, when he collapsed and was taken to the herbalist's shrine by a half-brother, Afolabi.
His mother, Mrs. Kudirat Ayoola, said she never knew they were being taken to a shrine on the day of the incident.
She said, "My son lives in his late father's house in Ejigbo; I don't stay with him. On April 30, 2016, I was called that he had collapsed in the house. My stepson, Afolabi, and a stepdaughter told me to join them because they were taking him for treatment. I never knew it was a herbalist's house they were taking us to.
"When we got to Oke-Aro, they handed us over to a herbalist. I protested, but they said it was for the improvement of his health. They dropped us off and left.
"On the following day, the herbalist poured palm oil around my son with candles and some fetish items. He asked my son to kneel down while I should be praying. He brought out a knife and a divination tablet. He said my son had become his meat.
"We were alarmed and my son started struggling with him. I screamed for help. They started fighting and my son headbutt the man. Some of the herbalist's associates came and beat up my son. They tied him up and dumped him in a clay pot. He was there for three days."
She added that efforts to locate a police station in the neighbourhood to report the incident proved abortive, adding that her relatives later came to free the victim.
Oluwasegun said the incident had left him disable, saying he depended on his mother for almost everything.
He said, "When I left the herbalist's place, I went to a police station in Agege to report the incident, but the policeman I met at the counter didn't attend to me because my hands stank and flies were buzzing over my injuries.
"I later saw a police patrol van, which called an ambulance. I was given some treatment and taken back to the house. But my condition has not improved. I depend on my mother to go to the toilet, wear my clothes and even eat. I can't do anything by myself."
Punch learnt that the case had been taken up by the Lagos State Office of the Public Defender.
The Public Affairs Officer of the OPD, Mr. Adeoba Adeniji-Adele, who confirmed the incident, said the agency was still studying the case.
culled from: Metro News